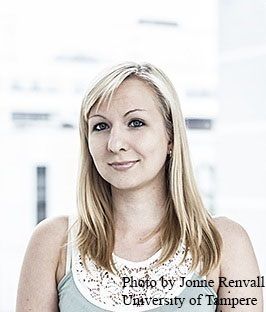 Emma Raitoharju
Highest degree: Doctor of Medical Science (PhD), Clinical Chemistry, University of Tampere, Finland (21.8.2014)
Current employment: Post-doctoral researcher, Clinical Chemistry, Faculty of Medicine and Life Sciences, University of Tampere, FimLab laboratories, and Pirkanmaa Hospital District, Tampere, (Finland 13.6.14 –). Funded by Academy of Finland since 1.9.2015.
Previous relevant employment: Graduate and doctoral student and a researcher, Clinical Chemistry, FimLab laboratories, University of Tampere and Pirkanmaa Hospital District (17.12.08–13.6.14 and 1.6.08–30.9.08) and Research assistant, Cancer Genetics, Institute of Medical Technology, University of Tampere (14.5.07–1.8.07 and 1.6.06–31.7.06)
Funding awarded: All together 355 158€ including 37 989€ from Competitive State Research Financing of the Expert Responsibility area of Tampere University Hospital (2014), 25 000€ from Orion Research Foundation (2014) and 244 069 from Academy of Finland (postdoctoral researcher funding) (2015).
Merits in international collaboration and grant applications: Took part in European Union 7th Framework Programme AtheroRemo during 2008-2014. In this multinational project worked in both research and in management side. Also took part in planning and organizing the AtheroRemo meeting in Ivalo Finland.
Had a vital part in the writing of research plan for "Life-long stability and heritability of epigenetic changes in relation to impaired glucose metabolism and the risk of type 2 diabetes and cardiovascular diseases", which was awarded the funding of 472 502€ from the Academy of Finland in 2015.
Merit in education: Pedagogical studies (10 ECT), instructor in Problem based learning study groups in 14 courses during 2010–2017. Responsible teacher at the Basic Laboratory course (5 ECTS) and teaching assistant in the molecular biology laboratory course (3 ECTS)at the Faculty of Medicine and Life Sciences, University of Tampere. Supervisor of five students in the medical advanced studies, one PhD thesis and one Bachelor thesis. In addition, a part of the steering group of two PhD students.
Academic awards: 2nd place in Astrup competition by the Nordic Society of Clinical Chemistry (2016)
International research visits: Helmholtz Centrum Munich, Institute of Epidemiology, Munich Germany (1.9. – 30.11.2016). Collaboration on population studies on microRNAs and non-communicable diseases
Publications: 32 articles out of which 30 are original research articles. In addition, one invited commentary and one scientific review article. Co-author in seven manuscripts currently in preparation or under review in international peer-reviewed journals, last author in three these.